August 1st, 2012
Welcome to the Summer YA Scavenger Hunt! This tri-annual event was first organized by author
Colleen Houck
as a way to give readers a chance to gain access to exclusive bonus material from their favorite authors — and win some awesome prizes! At this hunt, you not only get access to exclusive content from each author, you also get a clue for the hunt. Add up the clues, and you can enter for our prize–one lucky winner will receive 
one signed book from each author on the hunt in my team
!
But play fast: this contest (and all the exclusive bonus material) will only be online for 72 hours!
Go to the YA Scavenger Hunt page to find out all about the hunt. There are TWO contests going on simultaneously, and you can enter one or all! I am a part of the RED TEAM–but there is also a red team for a chance to win a whole different set of twenty-five signed books!
If you'd like to find out more about the hunt, see links to all the authors participating, and see the full list of prizes up for grabs, go to the YA Scavenger Hunt homepage.
SCAVENGER HUNT PUZZLE
Directions:
 Below, you'll notice that I've listed my favorite number. Collect the favorite numbers of all the authors on the
red team
, and then add them up (don't worry, you can use a calculator!).
Rules: Open internationally, anyone below the age of 18 should have a parent or guardian's permission to enter. To be eligible for the grand prize, you must submit the completed entry form by August 5, at noon Pacific Time. Entries sent without the correct number or without contact information will not be considered.
SCAVENGER HUNT POST
Today, I am hosting Peter Adam Salomon on my website for the YA Scavenger Hunt!
Peter Adam Salomon graduated Emory University in Atlanta, GA with a BA in Theater and Film Studies in 1989.
He has served on the Executive Committee of the Boston and New Orleans chapters of Mensa as the Editor of their monthly newsletters and was also a Judge for the 2006 Savannah Children's Book Festival Young Writer's Contest. He is a member of the Society of Children's Book Writers and Illustrators, the Horror Writers Association and The Authors Guild and is represented by the Erin Murphy Literary Agency. His debut novel, HENRY FRANKS, will be published by Flux in September 2012.
Peter Adam Salomon lives in Chapel Hill, NC with his wife Anna and their three sons: André Logan, Joshua Kyle and Adin Jeremy.
One year ago, a terrible accident robbed Henry Franks of his mother and his memories. The past sixteen years have vanished. All he has now are scars and a distant father—the only one who can tell Henry who he is.

If he can trust his father.

Could his nightmares—a sweet little girl calling him Daddy, murderous urges, dead bodies—help him remember?

While a serial killer stalks their small Georgia town, Henry unearths the bitter truth behind his mother's death—and the terrifying secrets of his own dark past.

Sometimes, the only thing worse than forgetting is remembering.<
EXCLUSIVE CONTENT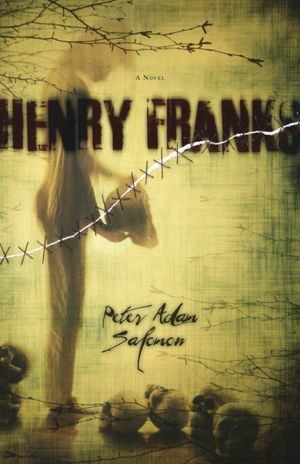 Peter's exclusive content is the opening scene from the not-yet-released HENRY FRANKS!  To read it, click
here
!
Don't forget to enter the contest for a chance to win a ton of signed books by me, Peter Adam Salomon, and more! To enter, you need to know that my favorite number is 15. Add up all the favorite numbers of the authors on the red team and you'll have all the secret code to enter for the grand prize!
But as well as the grand prize, I'm also hosting my own giveaway for a copy of ABOVE, right here!  Enter before midnight on August 6th to win a copy of ABOVE!
a Rafflecopter giveaway
CONTINUE THE HUNT
To keep going on your quest for the hunt, you need to check out
the next author!
Last Tweets
I'm still not here. Just had to put that piece of cognitive dissonance somewhere.

,

TFW you're in a store that contains three bars & thousand-dollar handbags & How Soon Is Now comes on the sound system.

,

Sunday is coffee and provolone and oranges. #foodisgood #sunday #nofilter https://t.co/39NPTz9JyO

,

Otherwise, please do something nice and/or awesome. I will come back and tell you about mine, and I'll look forward to hearing about yours.

,

If you want to chat next week, write me a lovely email and I will write one back.

,
Follow
Tags